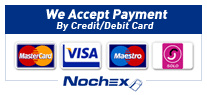 Please download and read our Terms and Conditions for on-line sales.

To purchase tickets, choose the number of tickets you need from the drop down menu, complete the form and click on the 'Pay Now, Nochex' button.

You will then transfer to the Nochex Secure Server to enter your card details.

Your purchase will be processed by Nochex and this transaction will appear as Nochex on your card statement.
---
On-line ticket sales for this concert are now closed.
---

We will never use data for any purpose other than that stated or that can be considered reasonably to be related to it. For example, we will never pass on personal data to 3rd parties without the explicit consent of the subject.

Contact Details:
Welwyn Garden City Music Society
8, Beechwood Close,
Hertford.
SG13 7HW
Telephone: 01992 551943
E-Mail:

Website: https://www.wgcms.org.uk